Adopt Texas Instruments TDA7498E chip, NE5532 op-amp. No pop, no audible noise, dead silent when nothing is playing through it;

Built-in low pass filter, 220W X 1(4 ohms, 20 Hz - 120Hz, 0.04% THD, 18db/octacce) for subwoofer, Small simple compact design but practical and powerful;

Advanced circuitry design, built-in speakers protection circuit, solid aluminum chassis for long time use;

Manufacturer-Direct, free lifetime technical support, and 18-month manufacturer's warranty. Feel free to contact us at customer@fosiaudioshop.com, we will reply to you within 8 hours;

The new version of TP02 has one more sub freq adjustment knob than the old version, and the others remain unchanged.
Quick tips:
1. Please plug the power cord into the amp THEN the wall, plug the audio cables into amp THEN switch on.
Some customers may see some slight sparks flying when they plug the power supply into the amplifier, because they use it in wrong way, you need to connect the amp to the power supply first, then plug the power supply into the 110v AC outlet, don't worry about the sparks, because this is class d amplifier, the capacitors need to charge when the power in, it's normal and safe.


Specifications
| Specifications | Details |
| --- | --- |
| Model | TP-02 |
| Output Power | 220W for Subwoofer |
| Terminating Impedance | 2Ω-8Ω |
| Input Mode | RCA |
| Output Mode | Active Subwoofer + Passive Subwoofer |
| Frequency Range | 20Hz - 120Hz (±1 dB) |
| THD | ≤ 0.04% |
| SNR | ≥ 98dB |
| Input Sensitivity | ≤ 280mV |
| Device Dimension | 5.12 x 3.54 x 1.58 inches |
| DC Input Range | 12-24V |
| Power Supply | 24V 4.5A |

What's in the box?
| Item | Quantity |
| --- | --- |
| Fosi Audio TP-02 Amplifier | x 1 |
| AC Power Cord | x 1 |
| 24V 4.5A Power Adapter | x 1 |
| User's Manual | x 1 |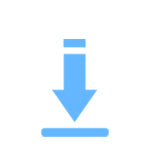 TP-02 User Manual
Compare with similar items: