Perfectly suited for your desktop or a smaller space in your home or office, the digital amplifier is easy to connect to your audio system with no software to install or settings to change;

100W X 2(4 ohms, 20 Hz - 20 kHz, 0.04% THD), comes with 24V power supply, can drive 280watts(8 ohm), 320watts(4 ohm) speakers;

Simple compact design but practical and powerful; No pop, no audible noise, dead silent when nothing is playing through it;

Home small hi-fi integrated amplifier, Sturdy, Lightweight, Aluminum enclosed amp makes it perfect for projects and DIY;

Manufacturer-Direct, free lifetime technical support, and 24-month manufacturer's warranty. Feel free to contact us at support@fosiaudio.com, we will reply to you within 8 hours;
Compare with the old version amp:
1. No sparks flying when the power supply plug-in;
2. Adopt better components to improve product quality;
The TB10A old version are Clearance Sales now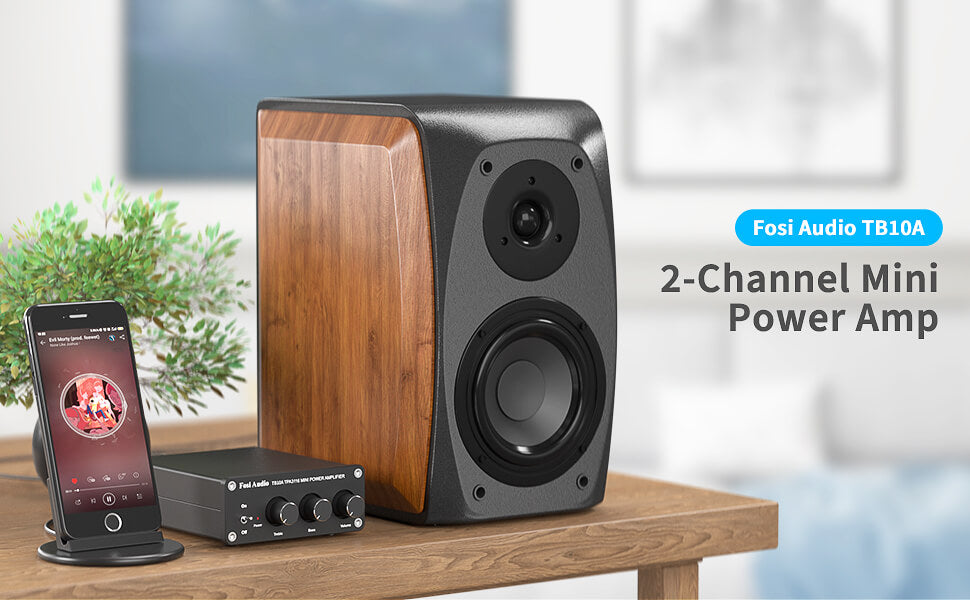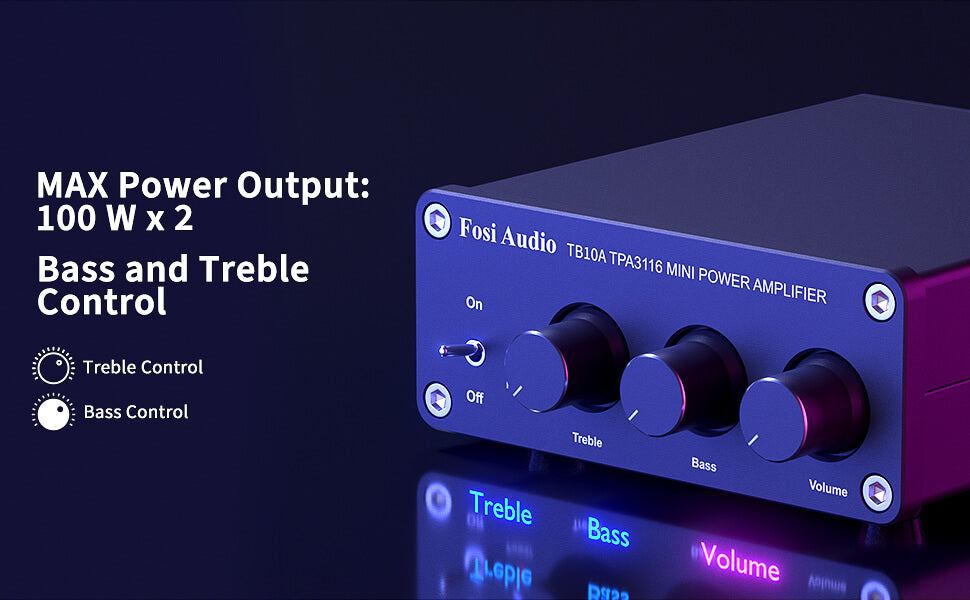 Extraordinary Clarity Hi-Fi Sound


Enjoy Hi-Fi music with a next-generation stereo amp for unrivaled sound quality. Improved channel balance, lower noise floor, and overall   A purer sound. Reduced distortion and increased dynamic range. Clean and potent power output.

Advanced Audio Architecture

The High-Performance Texas Instruments TPA3116D2 Chip presents music with rousing highs and deep lows. Even at high volumes, there's less than 0.04% harmonic distortion resulting in remarkable clarity.

Irresistible Finish

Fosi Audio TB10A amplifier curved edges and sleek controls accentuate its unibody design. With truly useful features, and thoughtfully designed premium enclosures. A new generation: exquisite design, improved operation.

Drive passive speakers

Perfect if you prefer separate passive speakers and preamps for your audio setup. 100 watt per channel power output can drive most home passive speakers to create astonishing Sound.   Easy to fit your audio system with RCA input

Upgraded DC Outlet

The old version amp or other brand amplifiers sparks flying when the power supply plugin, it's unsafe. With a built-in power protection circuit, there are no sparks flying when you plug the power adapter into the amplifier. Safe for use!

24V/4.5A Power Supply

Unlike other amplifiers come with a cheap 12V power supply. Fosi Audio TB10A equip with an energy-efficient and stable power supply which got authoritative certification by many security tests that can get an astonishing sound.


Specifications
1. Power supply voltage range: 15v-24v;

2. Power supply range: 90w - 120w;

3. THD: ≤ 0.5%;

4. Frequency Range: 20Hz - 20kHz (±1 dB);

5. SNR: ≥ 98dB;

6. Input sensitivity: ≤ 280mV;

7. Terminating impedance: 2Ohm - 8Ohm;

8. Output power: 100W + 100W;

9. Input mode: Analog;

10. Supplied Accessories: Amplifier, Power Supply, AC Cable, Manual.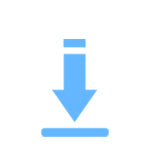 TB10A User Manual